The First Unicorn of Pram-sharing Business in Singapore
The rising of sharing economy has changed the consumers' behaviours and consumption models. For one, consumers can decide not only the products and brands they use, but also how they acquire them. Take the car ownership as an example, he or she can choose either to own a car or not to own a car, acquiring it instead through car-sharing services. People share cars, bicycles, houses, clothing, tools, and many other things. In fact, the idea of sharing is no stranger to humankind. The idea of sharing, be it through renting or borrowing, allows consumers to gain access to assets without the burden of owning them.
The mushroom growth of sharing economy has created opportunities for both entrepreneurs and consumers, including this company – PramShare. Found by a pair of young parents, PramShare allows you to rent a pram for your little one. However, many people are curious what prompted the new parents, Kenneth Tan and Tay Shixian, to start the pram-sharing business? Founders Kenneth and Shixian share how and why did they hit upon the idea of starting a pram-sharing business.
Rent or own?
It all started when the Kenneth and Shixian were expecting their first child. As the first-time parent, Kenneth asked around for best advice, including how to choose a best pram for his child. A female colleague of Kenneth, who is also a mother of four, revealed that she has four different prams in different sizes, and joked that Kenneth, should rent the pram from her.
The joke and the concerns as the new parents prompted them to look for the best solution, which later led to the discovery of niche territory of pram-sharing service. Just like many sharing services, the pram-sharing service stood on the foundation of renting instead of owning it. It was an untapped market in Singapore with huge potential. In fact, Kenneth says, the collaborative economy has hit an inflection point where sharing is more convenient and less costly than ownership.
As alternative modes of resource acquisition and distribution are emerging, ownership is no longer the ultimate goal of consumer desire. Seeing the huge opportunities in pram-sharing business, the husband-and-wife started their business without quitting their day job – that means they worked out the idea and business plan during their after-office hours.
"We started everything from scratch – from our 85 sq. m Housing Board flat in Queenstown, bootstrapping to buy an inventory of two to three strollers," says Shixian. However, it would not have been possible without recent advances in technology and the convenience of internet. The pair leveraged the technology to market and brands their business online. The business kicked off with a healthy customer base. Within few months' time, the business continues to grow due to the high demand of service.
More than just a wash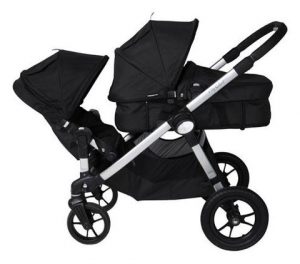 When one of their customers inquiries about stroller washing service, they found out that the stroller washing service was another untapped market in Singapore. Thanks to the baby, the pair started another entity, PramWash, and the business proved to be another success. Sharing similar business model as PramShare – customers can go to their website to choose a suitable cleaning package (with the same booking and pick-up procedure as PramShare).
One thing worth mentioning is the cleaning and washing are all done by hand. On top of that, the selection of cleaning solutions is one of the prime concerns in that children's safety is the most important thing. The selected cleaning solutions are odour-free, non-toxic and do not cause any allergies to children.
What is next for the Pram-sharing service?
The husband-and-wife has big plans for their business. From the cultivation of awareness of using cleaned equipment for children to the expansion of their international footprints to countries like Indonesia, Taiwan, Brunei, Hong Kong, and South Korea, Kenneth and Shixian are positive and ambitious to what lies ahead. Other than this, they also make sure they give back to society, the job opening for ex-convicts and nominal charges of cleaning services to charities like Red Cross, are the company initiatives in giving back to the society.
When borrowing is a norm and ownership is a luxury, the sharing economy is taking the world by storm. So next time when you are thinking of which pram best suits your child, think about the pram-sharing service – PramShare.
PramShare
Address: 1 Sunview Road 08-47 Singapore 627615
Contact: +65 8686 8001 / 8781 5516 (Whatsapp)
Email: [email protected]
Website: https://pramshare.com/