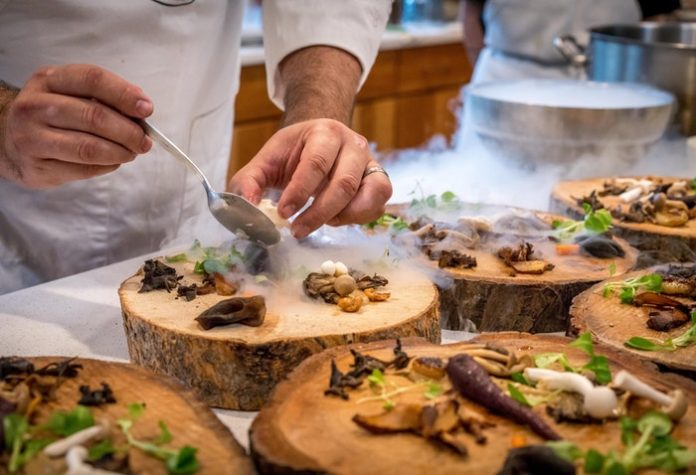 The Food Services Industry Digital Plans and its Potential Results to SMEs
The food services industry includes all the activities and services connected with preparing and serving food to people who are eating outside their homes. It includes restaurants, catering businesses, institutions running at schools or hospitals, fast food joints, and even food trucks. Moreover, the food services industry digital plans include all the digitization processes, which can help in delivering the food on the doorstep, selling it online, managing queue, and many others.
The food services industry is growing at a fast rate all over the world and assumes a vital role in the economy of a country. Food Business is very competitive, and new innovative ways of serving food are emerging. Be it different flavoured foods or food trucks or apps that can deliver food at your doorstep.
The tastes of the diners are also changing, and they now like their food to be healthy, hygienic, and prepared from high-quality ingredients. This has led to the development of modern technology in this industry to meet the growing demands of the clients.
The Emergence of Food Services Industry in Singapore
The Food services industry is growing at a breakneck pace in Singapore. It is one of the significant contributors to the economy, and millions work in this industry. The growing population has led to a corresponding growth in the industry because all love food.
There is a massive competition in the food industry as more business people are entering the field, and it is full of potential for growth and profits. Moreover, there are several factors that determine brand relevance or knowing which company has a longer staying power. The increasing costs, the need for higher productivity and the increased demand for more options for buying food have all necessitated the digitalization of the food services industry in Singapore.
The Food Services Industry Transformation Map (ITM) was launched in 2016 to maintain and improve the quality of dining options, generate better job satisfaction by improving job quality. It also reduces reliance on the workforce.
The Food Services Industry Digital Plan, in alignment with the ITM, was launched to help the Small and Medium Enterprises (SMEs) to go digital. It is a part of the SMEs Go Digital program, and it aims to improve the productivity and efficiency of the SMEs. The SMEs Go Digital program comprises of the following:
Industry Digital Plan (IDP): It provides support on digital solutions and the training required for going digital.
Pre-approved solutions: Digital solutions pre-approved to meet business requirements. The Government too grants for adopting these solutions.
Consultancy services (SME Digital tech Hub): Using these services, you can transform your business using digital technology.
Project Management services: The digitalization process requires support which will be provided by the project managers.
Role of Digital Roadmap in Food Services Industry Digital Plans
A digital roadmap has been provided to make going digital easy for SMEs. It comprises three steps that are getting digital economy ready, growing in the digital economy and leaping ahead.
Getting Digital Economy Ready:
It consists of the following solutions that will increase productivity and enhance customer satisfaction by automating repetitive manual tasks:
For Front House:
Digital or online ordering of food: This will enable the customers to order their food with mobiles, chatbots, QR code or digital kiosks for take-out, dine-in, or home delivery. It will simplify the ordering process, remove mistakes, lessen waiting time, and enable optimum use of the workforce.
Payment by digital means: This will simplify the payment process and provide the customers multiple choices for payment like online or mobile payment. It will significantly reduce transaction costs and reduce delays.
Management of customer relationship: Solutions that will help in managing customers better, reward them, get their feedback, and also help to retain them.
Automating reservation processes: Simplify the reservation of rooms, tables, and operations in the service area by automating them. It will help to satisfy the customers better, enable the optimum use of resources and capacity, and help to forecast the demand.
Wireless Self-collection: It will help to notify customers when their orders are ready. This will help in improving the quality of service by lessening waiting time. The process will be easy to implement as it is less reliant on the workforce.
Management of queue: These tools will help to give customers a better experience by reducing queuing and seating them better. There will be lesser operating costs and improved efficiency as service operations will be simplified. This will then increase the productivity, efficiency, and customer satisfaction of the customers coming to restaurants and allied businesses.
For Back of house:
Management of kitchen: Tools that will simplify food preparation, eliminate manual errors, improve the quality of food, save ingredients, and reduce food wastage. It will then help to give the customers better service by reducing waiting time and improve order visibility.
Management of fleet: These are the tools that help to monitor the location of the fleet in real-time. You can use them optimally by proper planning. It will also enable businesses to provide faster delivery and enhance customer experience.
Growing in the Digital Economy:
Front and Back of house:
E-Marketplace/e-procurement: You can use e-commerce to sell your products. It will digitize all documents like those of purchase, delivery, and invoices. This will also enable them to reach new markets and increase profits. Digitized transactions will facilitate easier tracking and allow access to more suppliers.
Data analytics platform: An essential tool through which you can study the behaviour of customers, operations, and food trends. With this data, you can understand new opportunities for business and optimize strategies for sales and distribution. It will also help to analyze customer profitability and smoothen the supply chain to react speedily to changes in the market.
IoT (Internet of things) enabled management of central kitchen: Internet of Things solutions to manage operations in the kitchen and also track resources. It will allow detecting the changes in temperature, quality of air, and the environment that could affect the safety and quality of food. It will also help to carry out preventive maintenance. This will then enable companies to calculate the usage of resources with the aid of the procurement portal and smoothen kitchen delivery and workflow.
Leaping Ahead
Sensing/Video Analytics for Restaurant Observation
Using sensor and video analytics to study the behaviour of customers and assess the service levels of staff. This will also help to make optimum use of F&B (Food and beverages) options by analyzing customer choices, demographics, and heat maps. In addition, it will help to make better business decisions and provide better customer satisfaction by improving service quality.
AI (Artificial intelligence) Powered Predictive Ordering System
Employ Artificial Intelligence to study customer behaviour, operational efficiency, and quality of service. It helps in reducing the wastage of food because of better sales predictions. Also, it will reduce costs due to the optimum use of the workforce. Lastly, it will create new openings and increase sales based on product mix, the profile of the customer, and a better understanding of the service.
Providing Immersive Training Using AR/VR
Provide effective, better, and realistic training in a virtual environment by using virtual and artificial reality. It will enable the staff to get trained in a safe environment and also lessen the costs of training repeatedly.
F&B Preparation/Cooking Robot
You can simplify the food preparation processes through automation. Thus, improving efficiency and enabling the production of tasty and good quality products consistently. This will also help to lessen the reliance on the workforce and reduce overheads.
Assurance of Quality
Using blockchain to track the supply of food which will help in maintaining the safety of food. This can also potentially prevent the counterfeiting of products. In addition. it ensures the consistent production of quality products. Lastly, it will help to improve brand reputation and enable entry into international markets.
Optimization of Restaurant Layout Using AR/VR
Use artificial and virtual reality to study the patterns of traffic flow and make the optimum use of capacity and space. This will enable a better understanding between the staff in the dining area and the kitchen and improve the efficiency of operations. It will also reduce delays, enable more customer satisfaction, and help retain customers.

Learning Digital Skills for Food Services Industry
Digital skills will be required for all types of jobs with facilities to upgrade skills as and when needed. There are two types of training courses available for the Food services industry Digital Plans, which are the following:
Tech basics courses for foodservice industry staff who are light, digital users and require broad-based literacy and awareness.
Tech advanced courses for foodservice industry staff who are advanced digital users and require higher proficiency digital skills.
Support will be provided at all stages of digitalization by the business advisor at the SME centre or the principal consultants at the SME Digital Tech Hub.
Get hands-on training to enhance your skills for foodservice industry digital plans. It can boost your business to a new level.