Namazie & Co. – Redefining the Niche Legal Services Industry in Asia
Looking at the growing number of intellectual property rights violations and infringements in Asia and the urgency for clients to protect their intellectual property, especially while operating over the internet, Farah Namazie decided to put her skills and qualification to best use and help business owners foster growth while protecting their intellectual property portfolio successfully.
Specialised and Well-Rounded Legal Services
NAMAZIE & Co. launched its operations in 2001 with a mission to provide specialised and well-rounded legal services and solutions to both local and foreign companies under one roof. It is an internationally renowned and leading intellectual property law firm serving the industry for more than 15 years now.
The firm specialises in IP & Technology law and is strongly committed to providing every client they serve with the best in service and optimal solutions, helping them protect and shape their IP portfolios and commercialise their assets in Asia.
It has built its long-standing and stellar reputation in the global market based on its world-class services, client-focused approach and excellent service support.
NAMAZIE & Co. team provides clients with practical and result-focused advice on a range of Singapore IP legal issues & policies, Singapore's dynamic and evolving Intellectual Property law environment and even governmental policies. The firm aims to redefine the legal industry by providing the highest quality services to clients while educating them so that they can make informed legal decisions and can protect their legal rights successfully even without a legal representation.
Conducting IP Awareness Programmes
It offers clients a wide range of legal services including but not limited to Protection & Enforcement of IPR, Design, Patent and Trademark searches, copyright, brand development & protection, domain name protection, commercialisation and management of IPR and protection of works on the Internet and apps.
Unlike others, the firm goes the extra mile by also conducting IP awareness programmes for companies, providing them with quality information and guidance on how to implement the best Intellectual Property practices and ensures proper IP governance.
Protecting Intellectual Property Portfolios
The success and reputation that the firm enjoys today can be attributed to the hard work and dedication of their team, along with the excellent leadership skills demonstrated by Farah Namazie. It may be a small firm in size but in terms of services and performance, the firm excels.
After graduating from Oxford University and obtaining a Masters in Intellectual Property and Commercial law from the University of London, Ms. Namazie ventured into the industry with a focus to deliver the best to clients and protect their intellectual property portfolios. She started her career in the field of IP & Technology law in 1991. She has worked with leading firms like Apple Computer Inc. and gained hands-on experience on different technology law related issues such as complex software licensing and even outsourcing projects. She left Apple Computer Inc. to re-enter private practice. She leverages on her rich experience, qualification, deep knowledge and expertise to deliver excellent legal services to the clients she works with, helping them maintain their intellectual property portfolios with a focus on IP protection and transactional work. She is also a member of APAA, INTA, ASPA, ECTA and a registered Singaporean Patent Agent.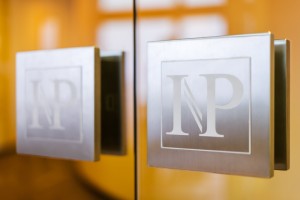 Passionate and Likeminded Team
Ms. Namazie along with her passionate and likeminded team including Glendoris R Ocampo (Patents & Design portfolio manager), Katherine Kan (legal associate for trademark protection and copyright enforcement), and May Ong (relationship manager at NAMAZIE & Co.) who share the same values as her, has truly contributed in the success of the firm by working relentlessly to serve every client with the same level of zeal and commitment.
The success of the firm can be measured by their ever increasing client base with a rich mix of both local and multinational corporations including Fortune 500 companies, research institutes, technology start ups, SMEs and foreign companies. Besides this, the firm has bagged several accolades over the years including awards like 'The Legal 500 Asia Pacific Leading Firm 2015', 'The Legal 500 Asia Pacific Recommended Lawyer 2015' and 'Corporate INTL Global Awards Winner 2014'.
Namazie & Co.
Address: 51 Goldhill Plaza
#24-06/07 Penthouse 4
Singapore 308900
Contact: +65 6538 9711
Email: general@namazie-law.com
Website: www.namazie-law.com