Beginner's Guide to Starting the Best Home Based Business in Singapore
The pandemic has made us take necessary safety precautions to prevent further spread and contamination of the virus, making sure that we stay home unless necessary. In the past year, people from all over the world have started their own businesses from home to focus more on passion projects, add to the household income, and allow for more flexibility in their schedule.
But this is not an easy path to success and will still require plenty of time, resources, and commitment. One of the hardest parts can be being unsure of where to start. If you're interested in starting your own business from home, here's everything you need to know.
What Is Home Based business?
A home-based company is normally located in the owner's home. The business is operating from the same place you're residing in. Some of its advantages are lower overhead expenses since you're staying in the same place with no additional rent or utility expenses to pay for.
Another advantage is saving time and money on commuting unless you have to travel for work. Less transportation expense could amount to huge cost savings in the future that could be allotted for something else you may need for your business. For now, you can enjoy a work-life balance and spend more time with loved ones.
Running a home-based company is one of the most convenient ways to recover some business expenses and possibly reduce your income tax liability. To qualify for a tax break, you must prove that you have an allotted space in your home for your work set-up or office space.
Why Choose to Start a Home Based Business in Singapore?
You're Your Own Boss!
That also entails being able to do whatever you want. You can start your own clothing line, work on your art, start a home kitchen and/or bakery, and even start your own consultancy if you want to. This gives you more opportunities to try out various business ideas you have always dreamed of doing.
Flexible Hours
You would have the option of choosing when you want to work during the day and how much time you want to allot for work, depending on your situation at home. There will be no set working hours to stick to, and you can choose to work half-days if work is relatively light that day.
Less Financial Risks
Small businesses have lower startup costs than medium-sized businesses and big corporations, which means there are lower financial risks as well. In the event that the business fizzles out, operating from home will allow for quicker, easier exits.
Requirements to Start a Home Based Business
You should be at least 18 years old to start your own business from home. There is no limit on the number of workers you may have but only two non-resident hirees are allowed in your flat.
You can register to BizFile, ACRA's online filing and information system. Your SingPass ID will be required for you to log in. The registration process is relatively quick, taking up to 15 minutes only. But if your business requires you to visit government agencies, your application may take longer to get approved. It can take anywhere from 14-60 days.
If your registration application is approved, you will be assigned a Unique Entity Number (UEN). This identification number is assigned to all companies and should be listed in all correspondence with government agencies, including HDB.
However, there are also exemptions to registration. You are excluded from registration if you wish to conduct your business as a person using only your full name. If you are operating the business with one or two other colleagues but are still under your full name, you are exempted as well. You will need to register when you have certain words before or after your name.
Guidelines for Home Based Business in Singapore
A home-based business still comes with many rules despite having more freedom with how you can structure your schedule. Here are some guidelines you will not want to miss:
Your home address cannot be used as a business address.
Your business should not cause any major distraction to your neighbors (smoke, noise, odor, etc.)
You should not use heavy equipment that is not commonly used at home or have added workers or staff.
There should be no physical or paid advertisements about your company displayed outside your home.
Business practices must adhere to the relevant authorities' laws and regulations.
How to Grow Your Business from Home
One of the best ways to grow your business is by utilizing digital platforms to advertise your business. The pandemic has rapidly moved businesses online as virtual communication became the new normal.
Growing sales to current customers are one of the most effective ways to expand your home-based business. Consider offering more deals like coupons, exclusive discounts, two-in-one deals, and more.
You can also maximize your customer base by collecting feedback to show the positive experience your customers have had with you. You can share testimonials on your digital platforms as part of your marketing efforts.
Experimenting with various marketing techniques can also be a huge help to your business especially if you've just started. You can try SEO and SEM techniques, newsletters, and regular content. Then you can find which techniques work for you and which ones you can still improve on.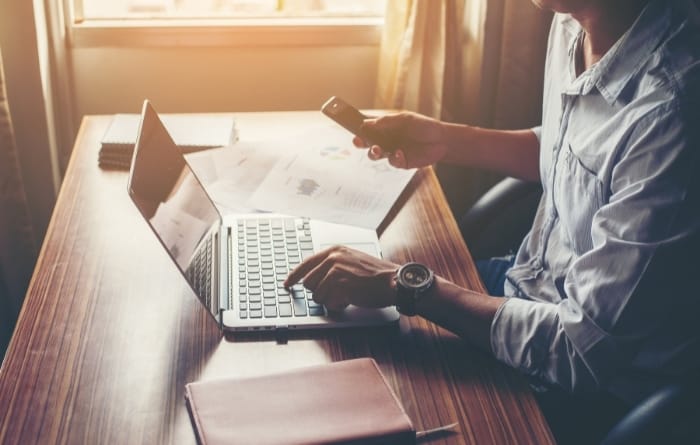 Start now!
When starting your business, make sure to have a clear business plan and a clear picture of how you want to operate. Home-based businesses are rapidly becoming the most common form of business start-up, especially now in the context of COVID-19.
Growing your business from home grants you flexibility that may be more difficult to achieve while renting, purchasing, or relocating office space. Working from home takes a lot of discipline but it can reap plenty of benefits that will make the struggles worth it.