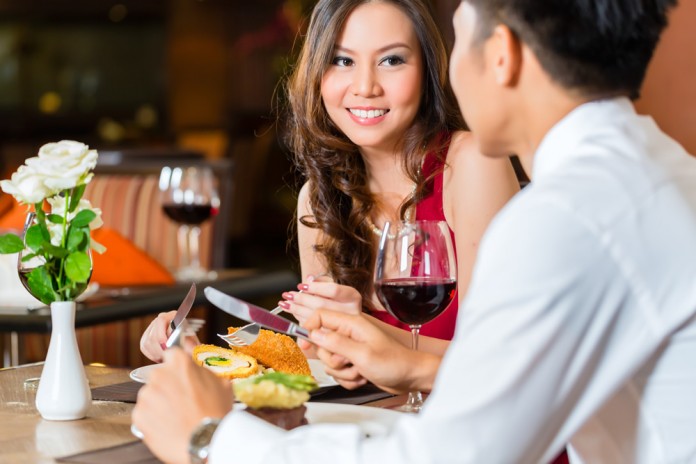 Lunch Actually – Helping Busy and Single Professionals Find True Love
With a strong presence in five countries, six cities and over 100 full-time associates, Lunch Actually is the first and largest dating company in South East Asia which is growing rapidly with time. Boasting a successfully growing number of happy unions and high satisfaction rate, Lunch Actually has helped tens of thousands of single and busy professionals find love and tie the knot.
Dating Consultant Chats with Each Client Individually
Unlike other dating services that are in the business just to make money, Lunch Actually strives to help singles not just to find quality dates but also potential life partners. This is evident through the way the company works. Lunch Actually first invites their potential clients to their office to meet their experienced dating consultants, where they would learn about the singles' personality and their dating preferences.
Simultaneously, the company also performs some ID and background checks on the client for safety and security purposes.
A Lunch Date
Based on the clients' profiles and preferences, as well as the assessment by the dating consultant, they would then search for the most suitable match for them. They would then share basic information about each other to the clients and start arranging and coordinating the date at their preferred dates and times. After the date, Lunch Actually would contact both parties to get their feedback and refine their preferences in order to find their next better matches.
Attributes like their client-focused approach, efforts to ensure client safety, and service integrity has helped Lunch Actually built a strong market reputation and set high industry standards. The success of the company can easily be gauged by their ever-increasing client base including a high percentage of satisfied customers and referrals.
A Mission to Help Busy and Single Professionals Find Love
Launched with a mission to help busy and single professionals find love, Lunch Actually is the brain child of the couple Violet Lim and Jamie Lee.  Violet Lim is the 1st certified Asian by the New York's Matchmaking Institute. She is the leading dating expert who has appeared in more than 3,000 media coverages including leading dating magazines, radio and television shows such as ABC News 20 | 20, BBC, CNBC Asia, The Straits Times, Radio Australia and Bloomberg to provide quality advice to single professionals out there having difficulty finding love. She was a successful relationship columnist in Cittabella Malaysia, HerWorld.com and New Man Malaysia. She now writes a monthly column for a Malaysian Chinese newspaper.
Lessons from 15,000 First Dates

On top of her role in Lunch Actually, Violet also sits as Principal Trainer and Executive Director at the South East Asia's Matchmaking Institute. She aspires and trains matchmakers in Asia. She also serves at Entrepreneurs Organization Singapore, and has earned the status of being the 1st Entrepreneurs Organization Singapore member to be featured on the company's award-winning magazine cover, Octane.
To help individuals find love, she wrote and published the book "Lessons from 15,000 First Dates". It became a best seller in the fastest time. In this book, Violet shared dating secrets with the readers based on the first 15,000 dates that she had arranged.
Largest and Leading Lunch Dating Company in South East Asia
It's said that there is no business without risk and this statement is surely true for Violet and Jamie.  However, the risk that they took paid off and today they are proud owners of the largest and leading lunch dating company in South East Asia.
The first risk that Violet took was when she quit her job at the bank and launched Lunch Actually. She had a new concept which she was not sure would work, but nonetheless, she took the leap hoping that she would succeed. The concept of launching a lunch dating company struck her after watching her single colleagues who were very attractive and eligible, but not dating. She realised that because they were too busy with their work life, they didn't have time to meet new people and enjoy a romantic relationship. She thought that her colleagues were virtually married to the bank.
A Lunch Date – Long Enough to Get to Know Someone and Yet Not Too Long to Become Awkward
When she came across the lunch date idea, she thought that this would really help them find love without impacting their work schedule. She thought that the idea of a lunch date was simple, short and sweet – it was long enough to get to know someone and yet not too long to become awkward. More importantly, it matched the lifestyle of busy professionals.
One of Violet's most memorable success story was this couple Chis and Ben. Chris was a lawyer and Ben an entertainer. Initially, Chris was furious when she found out that Lunch Actually had matched her with Ben. But they did that because they were compatible; they had similar sense of humour and also shared the same values. Despite his unique profession, Ben was a Master's Degree holder from Oxford University. When both of them met for a date, the couple instantly clicked, got engaged within 3 months and married within a year. Today, they are proud parents of 2 beautiful daughters!
Lunch Actually
Address: 9 Penang Road
Park Mall, #08-09
Singapore 238459
Contact: +65 6532 0010
Email: sg@lunchactually.com
Website: http://www.lunchactually.com/