Brand Incorporated – The Reflections of A Mompreneur
Only 3 in 10 entrepreneurs1 in Singapore are women. As the government devotes more resources to encouraging females to participate in entrepreneurship, the trend of female entrepreneurs is set to increase.
However, female entrepreneurs face a series of trials not typically associated with their male counterparts. While female emancipation has taken a drastic turn since early twentieth century and greater equality has been fought for, many women remain the primary caregivers at homes, even in a modern society like Singapore.
A mother and entrepreneur herself, Elaine Seah, Group Director of Brand Incorporated discusses her reflections as a Mompreneur and the challenges she faces juggling her multiple roles.
Lone Fighter to Team of Prowess
At the age of 27, Elaine discovered her appetite for risks and control and these were not satisfied by her routine role as a Communications Manager. "It is almost innate, observing how my family of entrepreneurs fight for livelihood, passion and craft," she laughs.
Passionate about creativity and looking to incorporate elements of fun into work, she eventually established Brand Incorporated, a PR boutique firm specialising in consumer lifestyle PR with a focus in medical and hospitality. What started as a one-person operation eventually evolved into a regional PR firm as her team takes on local and international clients such as GE Healthcare, Far East Hospitality, Fossil, Bristol Myers Squibb, Sofitel and Xepa-Soul Pattinson.
During her pursuit, Elaine gave birth to her child three years ago – Islay, a name inspired by the couple's love for whisky.
With Public Relations ranked as one of the most stressful2 jobs in the world, the nature of her work inevitably at times affect her duties as a mother. "Running a PR agency is no mean feat. Often, I am affected by a sense of guilt for not being able to afford time for my three-year-old."
She cites a research by Harvard Business School that studied how children benefit from their working mothers. Elaine illustrates her determination to set herself as a role model for her daughter and remarks, "It offers much comfort and inspiration for me to invest in my career and care for my family at the same time. I am very confident that it is possible, but only time will tell."
Today, mothers are able to seek the help of others as responsibilities for a woman pile up. Thankfully, Elaine is able to balance between work and family life with a capable domestic helper, understanding husband and cohesive work team. "A mother doesn't have to do everything on her own."
Being a mompreneur has changed her perspectives on management styles. A mother herself, she is able to empathise with her co-workers or vendors who are fellow mothers. "With a natural inclination to be compassionate and supportive, the work environment becomes much more humane". Nurturing and caring, she leads her all-female team by appropriately praising, motivating, inspiring and cajoling them at the same time. "Not an easy task but I believe in girl power."
Rising trend of Mompreneurs?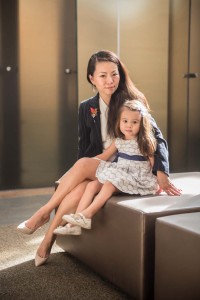 Singapore was ranked 9th out of 1453 countries for women's economic participation and work progression. Women can be expected to earn a fair income as compared to other counterparts. However, the domestic responsibility still rests heavily on a woman's shoulders. More can be done to tackle the societal imbalance in order to encourage women to start their own businesses. Two weeks paternity leave is certainly a start.
Confident to have-it-all, Elaine feels that it is only a matter of perspective whether it is tougher for a woman to start a business. The advent of internet makes entrepreneurship seemingly easier, yet, the world is also facing unprecedentedly high levels of competition. "To put it succinctly, it is easy to start a business, but hard to grow it without conviction, passion and drive."
While she agrees that being an entrepreneur is hard work, Elaine finds that being a mompreneur is even more challenging as "one has to juggle the expectations of work and family". She advises budding female entrepreneurs three don'ts.
One, do not skive, as hard work can only be accomplished unless one works hard enough. Two, do not give up. "It's easy to say, but hard to do when every aspect of your business require your attention. There will be moments of self-doubt, low self-esteem and disappointment. But once you give up, the game is over." Lastly, it is important to stay motivated and reinvent. "Business or life cannot get better if we stick to our old ways."
Elaine continues to bring her team to greater heights as the company strives to be recognised the region's storyteller. Celebrating over 12 years of experience, she continues to lead her team to enthral, engage and empower brands in both local and regional arenas.
Brand Incorporated
Address: 27 Foch Road
#05-02/03
Singapore 209264
Contact: +65 6223 1866
Email: benefit@brand-incorporated.com
Website: http://www.brand-incorporated.com/
About Brand Incorporated
Brand-Inc. is a boutique PR agency founded in 2005 specialising in lifestyle and healthcare PR. Originally a one-person operation, Brand Inc. evolved into the region's storyteller – enthralling, engaging and empowering brands. Celebrating over 10 years of experience, Brand-Inc. has taken on reputed clients such as Fossil, Bang & Olufsen, Far East Hospitality and Xepa-Soul Pattinson, accomplishing results in both local and regional arenas.
Sources: